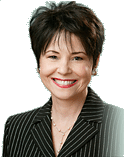 Sherry Maysonave
An acknowledged expert in nonverbal communication, Sherry Maysonave is an acclaimed motivational speaker and award-winning author. Her training in the arts of communication, professional dress, and psychology has enabled Sherry to assist tens of thousands of people to reach greater levels of success.

As an acknowledged expert in nonverbal communication, Sherry has made multiple appearances on NBC's Today, ABC, CBS, Fox, and NPR and been featured in USA Today, Financial Times, Wall Street Journal, New Yorker, InStyle, and BusinessWeek.
Sherry is the founder and president of Empowerment Enterprises, one of America's leading communication-image firms. Specializing in business images, Sherry's work addresses empowering individuals through verbal and nonverbal communication, apparel, demeanor, and all aspects of presentation. Her clients include business professionals from a variety of industries, nationally known political figures, writers, university professors, seminar leaders, and entertainers. Sherry's corporate clients range from international companies in technology, finance, advertising, law, real estate, retail, to insurance and health-care companies.
Observing massive confusion surrounding professional business attire in the workplace and inundated with pleas for advice, Sherry wrote Casual Power: How to Power Up your Nonverbal Communication and Dress Down for Success.
Sherry has global experience as a communication-image consultant, including work throughout the U.S., London, Paris, and Sydney.
Sherry's training includes certification by Image Dynamics and Robert Panté, internationally known image consultant and author of Dressing to Win. Sherry has a Bachelor of Science degree in Education, she has studied psychology at the graduate level, and she has multiple credentials in communication and personal development.