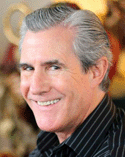 Steve Maysonave
Steve Maysonave has over 45 years high tech experience, including 35 years in international business development. He served for seven years as Chairman & CEO, Relativity Technologies before it was acquired in 2008.

Mr. Maysonave serves as Managing Partner, Empowerment Productions LLC and is the principal of Maysonave International, LLC, a consultancy group specializing in international business expansion focused on Asia-Pacific. For the past 30 years, Maysonave has been an active investor in early-stage software and communications oriented companies. Global corporations retain Maysonave to assist them in the execution of their business, technology, and investment strategies. Companies who have retained Maysonave include 6fusion, Citrix, Novell, Sony, TechMatrix (Japan), Venafi and the Japanese trading company, Sojitz Corporation.
Previously, Mr. Maysonave was Vice President, Global Partners, Informix Software, a worldwide supplier of database solutions. Additional experience includes seven years at Intel where he served as Director of Sales for Commercial Systems and as Business & Strategic Planning Manager. Maysonave also served as SVP, GM, and Officer at Digital Research, Inc. where he was responsible for worldwide marketing and field operations, including the European Development Center and subsidiaries in Europe and Japan.